Getting along with colleagues makes work fun. Some of them become your best friends and this friendship may last for lifetime. With good co-workers your post-work social life becomes exciting. Whether you are alone or with your family, friendship makes your life worth living. But you do not come across good friends all the time. Sometimes you have to take real efforts to make friendship, especially at workplace. You may be at your first job or shifting to a new job in the middle of your career; you may be working in a small company or top-notch business brand; whatever may be the case, you need to know your gig to enjoy your work.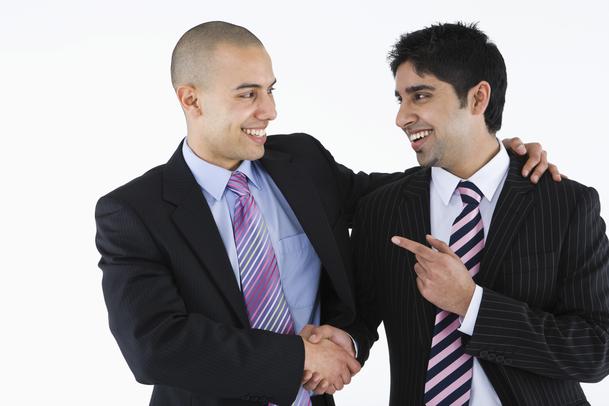 Knowing your co-workers helps you to learn about the corporate culture of the company, participate actively in teamwork and produce good quality work. Just think how would be your life if you are unable to connect with a single colleague? With whom you will share your lunch, gossip and free time with? Yes, it is not that easy to make friends at your new workplace. It is also not advisable to believe anybody and everybody with an innocent face. But there are some strategies to make friendship the right way and with the right people.
Be a smiling face: A smile on your face can change the atmosphere within your cube. When you enter the office, try to keep a happy face even if you had a bad start in the morning. Greet your co-workers with a smiling 'good morning' or 'hello'. This will make them feel that you are a nice person and some of them may come up to you to start a new conversation.
Make friends in your cubicle: You may find your co-workers talking over cups of coffee in the cubicle. This does not mean they are ignoring you. Since you are new, you must take effort to introduce yourself. Feeling shy is okay. But you should try to say one or two sentences to introduce yourself like "Hi, I am Mary. I joined last week in editing section. What do you people do?" If this does not work, take another chance of connecting with these people during lunch break or tea-time. Ask them 'Can I join you for a cup of coffee" or 'Can we have lunch together?". You will get positive response from one or the other friend.
Don't disturb anyone if they look busy or go on narrating your background starting from birth.
Show interests in others' hobbies and passions: A brilliant way of striking the right chord is paying attention to your colleague's interests and hobbies. Have a quick chat with your cube-mate and discuss topics which are not related to work. You can learn about their likes from certain things like the coffee mugs, photo frames, table clocks or other items they keep on their desks.  Questions like "where did you buy this dress" or "where was this photo taken" can be great ways to kick start a conversation. Show genuine interest in them and their hobbies and remember some details that you can use for future conversation.
If any common hobby or passion binds you and your co-workers, you can plan for an outing on the basis of that interest. Ask them if they would like to take their friends so that you get chances to socialize with more people. Even if your cube-mate doesn't have hobbies like those of yours, they can invite friends with whom you can share your interests. Thus you can make plan for any outing.
Don't spend too much time at your desk: You are not getting positive responses from people around you. That is fine. Don't worry. Sometimes things do not turn up as we expect or plan. That does not mean you stop blending in with others and simply log at your desk all throughout the day. Walk over to the coffee machine or water cooler or office reception and say 'hi' to others. One or the other person will definitely notice your politeness and willingness to talk and like to catch up with you. If they invite you out for lunch or snacks, show your eagerness to join them. Grab this very good opportunity to connect with your new gig and don't forget to thank them.
Go for an office tour: In every office there is one person who is eager to help the newbies. You can ask them to show you the office and introduce you to few people.
Find someone like you who is new to the office: There are some offices where people work in groups, share their lunch or spend free time in groups. In such circumstances, you may feel like the odd one out. How to break the ice then? Look around you carefully. You may find one or two people who are new at this workplace and searching for some friends. Don't shy away from making the first move and invite them for coffee or lunch.
Go slow: You hit it off with one or two friends and start sharing everything. Take a pause and think. Have you spent enough time with your new friends to know them well? Are you sure you don't have any risks from them? It is better to take some time to build trust and take your casual friendship up a notch.
Ask your manager for help: You can ask your HR manager or project manager that you are finding it difficult to make new friends. A good manager will surely do something like taking the team out for lunch so that you get to know your friends well and vice versa.
With all these tips, you can make those friendship juices flowing. You must make yourself the person you want to be friends with. If needed, change yourself for good. Remember no relationship can bloom without small adjustments.