When everyone around is busy making holiday plans for Christmas, employers and managers are having a difficult time motivating their employees to remain focused at the job front. Managers may warn employees about tough consequences for being inefficient at the job front. However, that does not help; as employees feel free to quit jobs after receiving their yearly bonus – leaving vacant positions! In addition, you may not have a crowd of applicants during these festive seasons, who can refill these positions immediately.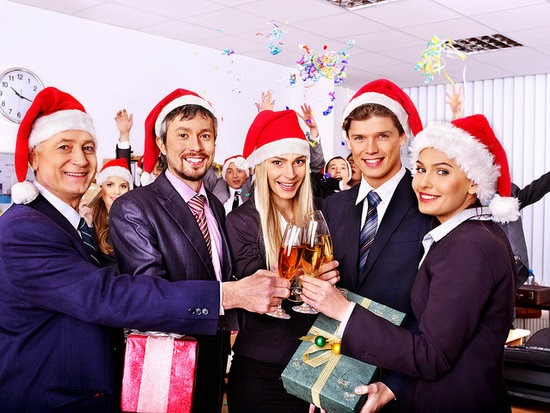 A sufficiently difficult situation..You cannot let seasonal changes hamper your business. What next?
There is one very easy and effective solution, that works well in such scenarios. When you cannot allow your workers to take a week off, to have fun with their friends and family;help them enjoy the holiday span in the office instead. Thereby, you make them happy and have some work done in return.
So spread the holiday spirit at office. This is how you can go about it:
Exchanging gifts:
Well, after paying handsome Christmas bonus to all your employees, I certainly don't suggest you to send gift items to employees, just to keep them motivated.
However, you can atleast have your HR managers to host such events for your employees, where they can exchange gifts with each other. As gifts are an important part of Christmas plans, this will help them to keep up with the holiday mood.
This practice also has an added advantage. Huge corporate houses, having millions of employees, fail to knit a close professional bonding between all their workers. People mostly remain connected to others working in the same or related departments and remain complete strangers to others working in different profiles.
When employees exchange gifts amongst all employees within the organization, they get a chance of initiating conversations with people they have not been very familiar with.
Gift your office with a new look: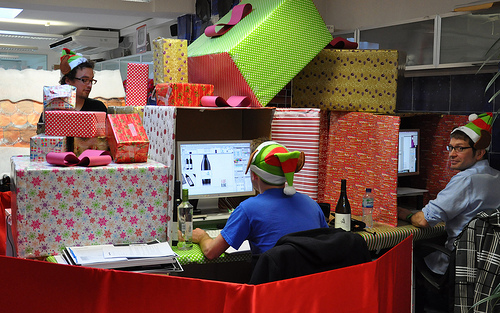 That does not necessarily mean renovation. Well all of us decorate our apartments during Christmas and New year. Having perfumed candles, X mas trees, ribbons and balloons to beautify our homes is a part of our holiday activities. Therefore, you can get your employees to start decorating their work stations a week before the big day. However, make sure that they don't spend half the time decorating.
Have some fun filled activities:
Since everyone is in a merry making mood, the work environment needs to be slightly less stressful and relaxing. Therefore, in between regular tasks, assignments and targets, you can spare some time to enjoy some fun filled activities with your employees.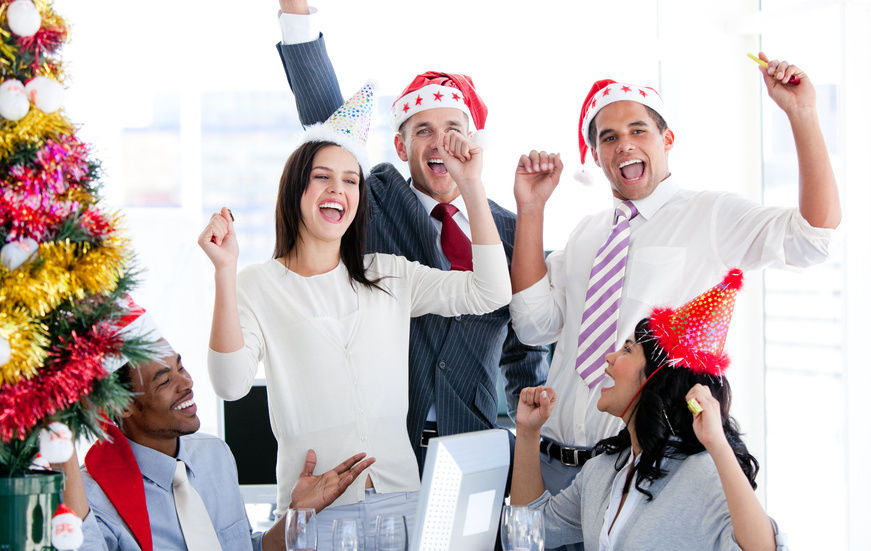 In addition, these activities can work as a platform for workers to display their hidden talents. And who knows, you can also benefit out of these talents someday.
Themed food:
Your office canteen has some regular food items and beverages available for employees. However, since holidays are all about chocolates, cakes and muffins, make some changes in your office canteen menu. Take suggestions from your employees to add some new dishes and beverages in the menu. Work to make the most delicious sweet dishes easily available for your employees. You can even extend the break timings by a couple of minutes or so, to allow them to relish all new and exciting delicacies available.
Play some music: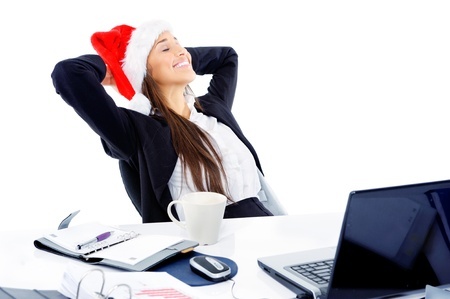 Music is always relaxing and since it is important to have all your employees relaxed during this period; as this is how they can be kept motivated, you can play some soft holiday music within office premises. You can also divide employees in small groups who can take charge of selecting tracks and playing them throughout the day.
Work out a perfect deal:
What about a deal that talks business? A deal that is beneficial for both ends. Think about making some changes in the work policy. Perhaps, paying slight incentives for working during holidays or perks; such as, paid leaves can help you get the work done. Yes it involves little investment from your side. However, if few dollars can get work done worth millions – you ought to work out the deal.
Have a small Christmas Party: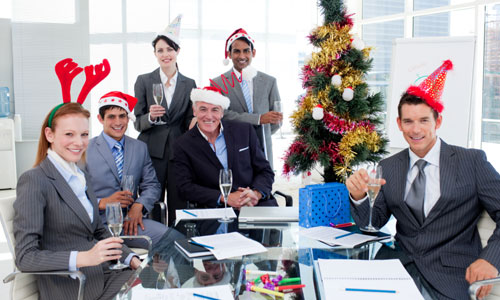 After all said and done, nothing can replace a Christmas party and therefore, don't skip this from your list. Arrange a party with the DJ and a giant Christmas cake with a free flow of wine. Take this opportunity to thank your employees who diligently work for you. Choose this day to announce best performers and other annual rewards for your employees.
Spread this cheer beyond office:
Happiness begets happiness. Therefore, it is a wonderful idea to do some good that expands your happiness and can make this Christmas much more meaningful. You can plan some donation for help homes or anything similar that can help the society at large. When you see people happy and content for something very small you have done for them, your happiness grows and multiplies like never before. Just Try it!
Well, when you are not in a position to change the situation, its better that you change your approach towards the scenario. Yes, it is difficult for your employees to focus and retain their levels of performance, when everyone around them is busy making merry and enjoying themselves to the fullest.
Thus, when strict work policies and corporate environment does not serve the purpose, just get a little flexible and see how things just fall into place. The above mentioned ideas are some ways you can spread festive cheer in office and have nearly all your employees, attending office during this festive season. Moreover, when you are spending some cheer moments with your workers, you are in a position of generating an office family environment!