Do actions speak louder than words always?  Does your behaviour matter more than what you say? Words are no lesser important than actions. What you say, how you say and what you do not say carry a lot of weight at your workplace. For Rudyard Kipling words are 'the most powerful drug used by mankind'; Aldous Huxley compares words with X-rays as 'they'll go through anything'; and Mark Twain says 'the difference between the almost right word and the right word is really a large matter'. Such is the power of words. The way you communicate your ideas and expression can create a good impression or shatter your image. Careless words will make people respect you less. Whereas good, strong and positive words will make them love you. Feeling baffled? Read on.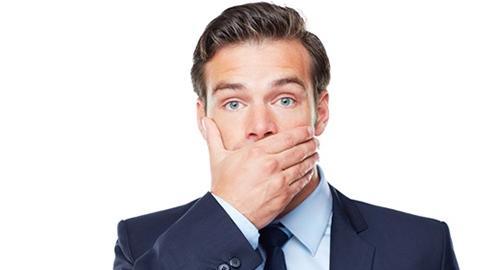 The question is what words to use at workplace. The list of such words will go on and on. Rather you should know what words not to use, what not to say at work. If you want people to love you and feel comfortable working with you, you must avoid certain words, phrases or sentences reflective of over-confidence, dominance and ill-behaviours. Sometimes certain things may seem normal to you as a speaker. But if you place yourself on the listener's position, you will come to know the difference. You may notice a big difference between the words chosen by a good leader, who is positive-minded, proactive and possess good collaborative spirit and a manager whose orders are followed by employees due to fear and not respect.
So whether you are drafting an e-mail to your boss, giving your ideas during a sit-down conversation, discussing project issues with your juniors, casually talking with your co-workers during breaks, you must be careful in delivering your words. Here is a list of 10 things you should limit yourself from saying at workplace:

1. "It's not my work": Sentences like "that's not my problem", "it's not my job", "ask him/her for this problem, why me?", "I am not paid for this" are really harsh. This attitude clearly indicates your detachment from fellow workers and their work. A good team member must be a part of other's success. Your colleague may genuinely need your assistance; so you must try to look into the matter. Another example may be when your manager wants you to learn some new task. Remember learning, relearning and unlearning are keys to successful work.
2. "Oh God! I am so bored": Being bored means you are not interested in what you are doing. It creates a bad impression on your boss who may doubt your performance later. Talk to your boss in a positive light that you want some new projects to maintain your productivity.
3.  Am I understood? Powerful people never use interrogative sentences like "am I making sense?", "does that make sense?" or "are you getting it?". These types of words may make others think you have a bossy attitude. Again these may also mean you yourself are confused or irrational. A better way of asking may be something like "would you like to share your thoughts?" or "let me know if you have any doubts".
4. "That's not possible": "I can't do this/that' or 'this is something impossible' are phrases used by people who seek to excuses for not completing any hard task. Your manager can easily notice your laid-back, pessimistic and hopeless outlook when you make such utterances. "Let's see what I can do", "let's discuss the matter and try out new ways" etc. can be better replacements for such negative phrases. Good leaders or employees hardly doubt things and thus willingly explore new situations, new problems.
5. "I hate my work": Ban this type of sentence while at work. Badmouthing any co-worker or saying something like 'I hate this company/ manager/ job', "my job stinks" can jeopardise your image. Whoever may be the listener, whatever may be the issue or what circumstances you may be facing, refrain from using such phrases.
6. "But I sent it in an email": What if the other person didn't reply to your mail? Can't you follow up with another mail or phone call? Don't make this an excuse to blame the other person. Remember ego problems may give rise to serious issues at workplace.
7. "I didn't get enough time": Even if you are a productive employee, such sentences may make your boss feel that you are not serious about your work. You may be really busy with various projects and running out of time. That is absolutely okay. What you can do is to ask your boss for their help in prioritising your tasks.
8. "We have been doing this that way only": Doesn't this sentence reveal a conservative and close-minded approach? Your boss will always want you to approach problems with a fresh outlook. If you are stuck in the past, how can you be creative and innovative? Show your eagerness by saying something like "That's seem quite interesting. Can you explain in detail?"
9. "You should have…": We all love people who speak eloquently. If you want to nurture your good impression, don't preface sentences with words like "you should have…" or "you could have..". This is a judgemental, fault-finding approach which is not acceptable in a workplace that fosters collaboration and team spirit. You can go for sentences like "If something like this happens in the future, I recommend…".
10. "It is what it is": Instead of saying "it is what it is", which sets limits on one's abilities and desire to change something, say "What if?" or "Let me see this once again". This means you are not surrendering to circumstances and trying to bring in some change.
Never use words and phrases like "you guys", "actually", "kind of", "sorry, but…", "just", "I hate him or her", "I don't need the money" etc. which could be career-limiting and even get you fired. Be professional in whatever you do and whatever you say- that should be your work mantra.