Dental Assistant Resume
Individuals in pursuit of a career as dental assistants need to be fully prepared to handle the delicate engagements with patients and the dentist. This makes it imperative that the aspirants are strong in interpersonal communication and relevant technical abilities. The assistants are responsible for increasing the efficiency of the senior dentist's performance. The profession requires handling of diverse tasks such as, provision of oral hygiene for patients and maintaining a positive attitude. This makes the profession flexible in terms of roles and responsibilities.
The dental assistant is also responsible for collection of medical history and treatment related information from patients. He or she needs to ensure that the instruments used by the dentist are sterilized and the equipment is kept in orderly manner. Taking radio graphs, instructing patients for oral care, making appointments, supplier communications, billings and overall assistance for the dentist form the responsibilities of the assistant.
When an individual aspires to work as a dental assistant, the primary tool that aids in making an impression is his or her resume. This profile document needs to contain all relevant information and display the strengths and qualities possessed by the applicant with regards to the job. Furthermore, adding relevant experience, proficiencies, educational qualifications and certifications is also needed. The below mentioned format for developing a dental assistant resume followed by examples will help you in drafting a good and effective profile document for yourself.
Dental Assistant Resume Model
Contact Information:
Full name
Campus and permanent addresses
Telephone numbers
Email address
Education: List the highest degree first.
Name of institution, city and state

Degree, major and year awarded

GPA (optional)
Experience: List the most recent first.
Activities: Campus and community activities, and Memberships in professional organizations.
Personal: Certifications, security clearances, patents, special awards, citizenship etc.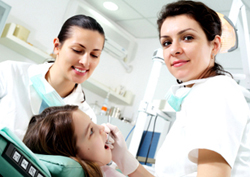 Now let's have a look at the necessary information that will make your resume stand out. The following are some of the points you need to consider while making a Dental Assistant resume.
A list of your administrative and clerical duties and practical work in the surgery
Preparation of the surgery prior to patients arrival, sterilizing equipment and ensuring all equipment is ready and the waiting area is clean
Making patients feel comfortable and at ease
Amending patient records and taking down notes that are dictated by the dentist
Mixing files and materials
Assisting the dentist during dental procedures
Acting as a receptionist (if applicable), answering telephone calls, greeting patients and making patient appointments
Organizing and filing patient records
Sending out reminder letters to patients for appointments
Keeping a track of any new procedures, practices and processes that have been developed
Also, don't forget to check our other
dental resumes
.
Samples of Dental Assistant Resumes