Police Resume
A police resume should reflect excellent communication, interpersonal and analytical skills. In addition to this, mention your aptitude for developing new skills and the ability to implement them immediately making an effective contribution to the new employment.
Objective : When building a police resume, define your Civilian Job Objective in a clear way. Your definition should point-out the kind of job profile you are looking for.
Focus on the following areas :
Skills
Areas of expertise
Certifications
Achievements
Background/Experience :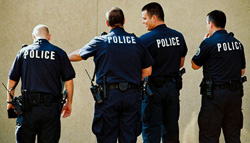 Your experience is an asset and should be marketed well. Many employers know the value of bringing veterans on board. As you detail your experience you must provide an evidence of your expertise, knowledge, experience and skills you have developed throughout your career.
Training/Courses :
Provide detail on training and courses undertaken throughout your career in the police profession that have enhanced your experience and skills, which will be of immense value in your new position.
Achievements :
Detail specific achievements and areas where you have excelled throughout your career. Detail your daily activities and responsibilities as you create a profile of your potential for a prospective employer.
Sample police Resume
Checkout our sample police resumes below :
---