Yes it is difficult and I know you are simply done with your cruel boss. You have decided to leave and never return back to this monstrous workplace.
However, Wait! Did you just hear the word "Quitter?" You have endured so much during these months and now you just hear someone calling you a Quitter! Thats wrong and sinful, Isn't it?
Well, no matter what you think and how bad you feel, you quit this job to "fight" your evil boss and you just frame yourself as an escapist. And in no way you emerge as a fighter. Sorry!
Now, sit back and think. You have already gone through so much. And now, are you just going to give up like this, without gaining anything out of it? Aren't there ways of optimizing this current situation?
Well when you can't change the situation – change yourself. And of course, sometimes, the worst terrains lead to best destinations. Therefore, when you have been dealing with a bad and tough boss now, there is no question about running away for momentary peace. Rather, use this opportunity to explore all possibilities within.
Yes it is very contradictory; especially, for people who are currently dealing with miserable bosses. However, just hold on to your patience for a while and learn how a difficult boss can be worked on to your advantage. This article throws light on benefits of having a difficult boss.
Know how a difficult boss is in fact good for you:
Below are few areas where your bad boss helps to bring out the best in you.
Perfection becomes your habit:
Well, you put in all your efforts to impress your boss and he is still ready to find loopholes; no matter how insignificant and invisible they are. Yes, this shatters your motivation and everything around seems futile.
However, can you not push yourself a bit and work to eliminate these foibles? As it is you are already working to yield best results; being a little more observant and alert may help you become a perfectionist. Perhaps your boss will still not find enough reasons to appreciate you. However, there will be many, who would crave to reach your levels of accuracy. And one fine day, your boss will silently acknowledge your efforts.
Challenges are no longer "CHALLENGES" for you:
Completing a month's task in a day is a challenge for you? And you say No. Well, completing the same with a pitch perfect accuracy is definitely a challenge for you. And you still say No!
It is perhaps a magical spell cast on you by your bad boss. And it is good!
Well, someone who is constantly preparing for worst scenarios is no longer afraid of crisis situations. Rather, you are somehow ready to accept any obstacle; without a single crease on your forehead. Isn't that wonderful?!
And in future, when you decide to switch jobs, this is something you can put on your resume. No not your boss's story, but your capabilities of dealing with challenges. And it does not become cliché. When time comes, you will prove it before them, Isn't it?
All zones become Comfort Zones:
None of us can master all traits. However, all of us are good at something or the other. And there are people who are simply unbeatable at particular areas of expertise. They do things so perfectly that others can just dream of reaching their levels of accuracy. And for them, it just becomes a child's play.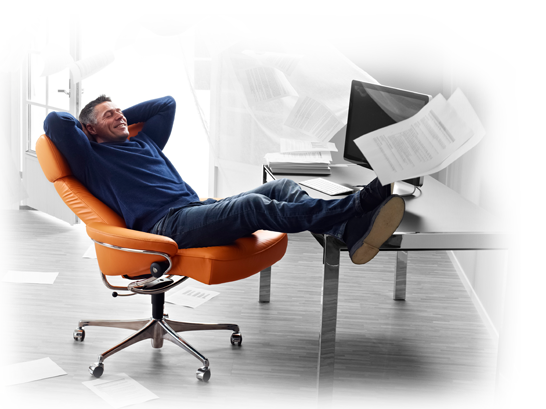 This is known as comfort zone. We work only to yield best results and that too, we don't require additional efforts for such impressive outcomes.
Now, when you are working with a boss who demands flawless performance at anything you do; you are left with no other choice, besides being perfect and flawless at everything. Yes, you will be required to handle many responsibilities that are not related to your profile. However, no learning experience is ever a waste of time. Don't you think so?
Therefore take it as an opportunity to learn and grow. Thus, even though you struggle during your initial days, you learn the art of mastery. Very soon you become the best at anything you do. And trust me this is quite an achievement. Irrespective of whether it pleases your boss or not, you definitely earn a great advantage in future job prospects.
You definitely get noticed:
It is not only your boss who is running your organization. There are a lot of people around – your colleagues, other superiors and of course your boss's boss.
You are perhaps new in this workplace and it is your first time that you have come across such a miserable person. And unfortunately this person is your boss. However, others who have spent longer working period here, are definitely aware about your boss's behavior with subordinates. Many perhaps have fled this place fearing that person solely.
Now, when you stand strong and confident working with this very person; you are definitely noticed by others around. People start respecting you for your endeavor, work spirit and courage to carry on at worst scenarios.
And who knows, very soon your boss's boss may find you more eligible for some other profile, where you will be reporting to someone else and thus get rid of your arrogant and discouraging boss. This time you don't quit, but fight and win over your difficult boss.
An entry to the "real" world:
Truth, however bitter it is, needs to be unveiled at the earliest. Although many of us work to make this world a better and beautiful place to live, in reality it is not.
Your bad boss is an epitome of this real bad world. And every bitter experience is a teaching lesson for you. No, everything is not bad and the world still has many things to rejoice. However, when you prepare for the worst and instead receive pleasant experiences later, your happiness quotient expands.
Your boss is not the last thing happening with you and life will definitely bring cross roads in future as well. However, if you can somehow overcome this situation and come out with flying colors, life will definitely be easier later; as you will have the required experience to turn out bad situations to good.
This was all about benefits of working with a bad boss. However, as a closing note, I would like to share a word of caution with you. Never let bitter experiences change your inner soul. Remember, these are experiences and will fade away someday. And if you can see and drive out the best things from worst situations, they become the greatest teachers of our lives. And no matter how bad your boss is to you, never tyrant your subordinates when you will be in your boss's shoes.