Interviews! a daunting word for many, but a breeze for some. Few people appear and also ace interviews, while there are few who just cannot conquer their fears and so never excel in them.
There are even more people having a fear of job interviews. Such fear stems from performance anxiety issues and the feeling of inadequacy in an individual. Such fear can be unnerving and totally uncalled for sometimes.
Following up after the interview is a possible solution for job seekers to alleviate part of their doubts. It is also paramount for any person who is awaiting response from the company end. However this wait also can get excruciating and tough.
Taking proper follow up can help in increasing confidence of the interviewee and also reducing the phobia of interviews. Follow-ups are such that, they could either favor the applicant or make the employer reject him. A small piece of paper; thus could end up deciding the future of the job applicant.
Following some ground-rules to get follow up after an interview also provides clarity to the interviewee. Some tips regarding the same are as under:
Proper phrasing: Make a mark by being different
Instead of using phrases such as "Have i landed the job??," using appropriate and open-ended phrases is absolutely important to extract a favorable response. Phrases like, "It was a great learning experience to interact with the bosses in your XYZ.inc" is likely to jog the memory of the interviewers.
There are several interviewees appearing for a position and the interviewer won't necessarily remember each and every candidate. So the trick will be to attract attention by being unique.
Contact recruiters through their business accounts: Professionalism works
Communicating with your recruiter through their email account is always a safe way to get in touch with them.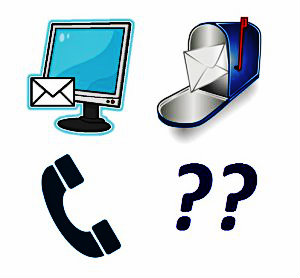 Contacting them through any other medium (say on their personal mobile or home landline or personal email address) other than their official medium could dramatically reduce your chances to get through.
Immediacy of thank you message: Don't hurry, but don't delay too
This message to the interviewer needs to be sent in a day or two of the interview. The concerned message has to be such that it reminds the interviewer about you and also shows them your interest in the job.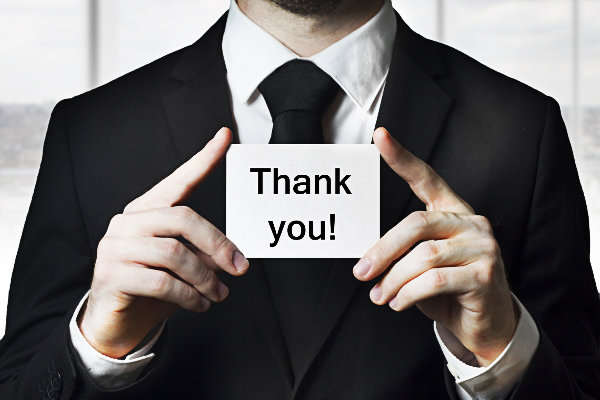 Your contact details and the reasons you find yourself suitable for the job need to be highlighted too.
Personalized thank you note: Gratitude will work wonders
The job of an applicant isn't over after the interview. And neither is it limited to going and appearing the interview. The thank you note in order to be effective needs to be personalized and drafted by the applicant based on his or her experience and possible role in the company in event of selection.
Precision and brevity counts: To the point is the way to go
Keeping the email short, sweet and brief is significant in maintaining the essence of the message. Brevity also ensures keeping out unwanted material away.
As also the fact that hiring managers are extremely busy people, be sure to come to the point quickly. There are chances that the mail would reach the trash bin if the concerned person doesn't get the aimed message.
Poor syntax and shabby language: Get the basics right
Using wrong grammar and in a way sending across a poorly drafted thank you note not only portrays a poor academic background, but also a lack of seriousness on part of the applicant.
An email alone won't guarantee you a response:
Taking efforts in keeping followup after the voicemail or email message to the hiring manager sent, for a couple of weeks, is necessary.
Forgetting to check your mails for any reply is unadvisable. The interest from your end should be visible. You are not really entitled to receive a response if the company doesn't think you are genuine and interested.
Social media profiles: Positive projection increases your chances
Use your social media accounts on Facebook, Linkedin, Twitter etc. to your advantage. If they project an unfavorable or negative impression of your personality, this can prove to be a hindrance towards getting a job.
Remember that prospective employers are likely to go through your online pages while trying to get to know more about you. Online pages provide a great deal of other information about your personality which face-to-face interaction probably cannot. Be careful to project a positive and professional image in front of your prospective employers.
Limit your online sharing: Be careful, this can backfire
Be careful about what information you share online about the interview – say through a status message on Facebook or a tweet informing netizens about the same.
Similarly sending an add request to the interviewer is not considered appropriate behavior.
Networking: Build right connections
Utilizing social media for professional purposes is a good practice for an individual in the long run. Keeping in touch with the employers through say Linkedin or Twitter can pay off for the individual.
Sending articles to prospective employers to see your work can also help. For there are chances that the very same people would contact you for future work commitments.
Alert your references: Startling references is a big NO
It is absolutely necessary to intimate your references about your interview and also the work you've done in the past. This, is a necessary step if in case the interviewer is finalizing you and he decides to contact any of your references.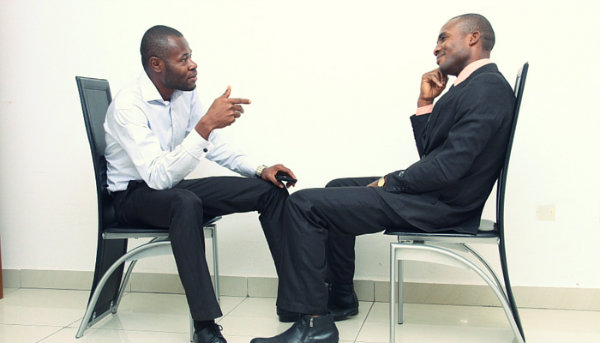 The references ought to have an idea and relevant professional information required by the employer.
Patience is key: Wait, don't panic
Hiring people for different profiles is no mean feat. Hiring managers always have a lot of things on their plate, so do not expect them to follow the exact timeline. Understanding that they are not in any way under any compulsion to answer you is helpful.
References do not guarantee the job: Clear misconceptions
Having references does not in anyway translate to bagging the job. References are just the entry tickets to any company. hence, the job seeker should steer clear of such wrong assumptions.
Reach out but avoid excessive calls: Know when to ring
Calling the recruiters for knowing their final decisions is alright. Whereas calling them too frequently could only make you a nuisance in the eyes of the employers. Likewise, calling them if there is no response post the interview in weeks is appropriate.
Avoid sending gifts: Avoid bribes
Sending gifts or calling too many times would only kill your chances if any to land a job. It is likely to be even tagged as stalking. There is no sense in reducing your own chances of landing a job by resorting to such professionally uncalled for behavior.
Prompt response: Don't keep employers waiting
If contacted by the concerned company for a second interview, be sure that you respond in a timely and a quick manner. It could be a call for a second interview or to inform you about their positive response.
If you happen to miss the call or have seen their message late, do call or revert through message as soon as possible.
Respond graciously even if you are rejected: Be courteous
If during the phone call, you get the bad news of rejection, do not lose heart. It is important to respond graciously and take the employer's decision in your stride. If possible, try to ask them for feedback and the reasons of rejection. This could help you in improving your profile by sharpening your strengths and working on your weakness.
Do not visit the company to know the result: Don't use the wrong way
Visiting the company for knowing the result of selection could put them in an embarrassing situation. It creates a wrong image and a bad impression on the employers.
There is a thin line between persistency and peskiness: Don't go overboard
The job applicant is expected to know the minute difference between being persistent and being pesky. There is no doubt that the applicant has the right to know about his/her selection or rejection. However it is in no way correct to inundate interviewers with constant calls and messages. Applicant needs to know where to draw the line.
Know when to move on: Life has something better in store
If the company you have appeared for an interview doesn't respond after a considerable time, the candidate ought to understand the cues. It is unwise to put all eggs in a single basket. If couple of follow-ups do not yield any response, then it is a signal for the candidate to move on.
Candidate needs to be open enough to respond to the other options available to him/her. The job market is vast and thus he/she can be able to tap other jobs if they keep their eyes and ears open.