Are you a job-juggler? Or thinking of taking multiple roles? Today's market is a market of competition frequently hit by recession and employment drought. People are finding it difficult to meet both ends. In this scenario trying hands in multiple tasks seem to be a good option. Studies reveal that the need of part-time jobs is growing day-by-day. In the USA there has been a significant rise for such jobs. Some prefer such jobs for creating a second source of income; students prefer those to cover living expenses, consider their education loan or to socialize; many are unable to work for long hours continuously; again there are others who might like to exercise some forgotten skills or give a boost to their already existing career. Whatever may be the case, it may be said that part-time jobs are here to stay.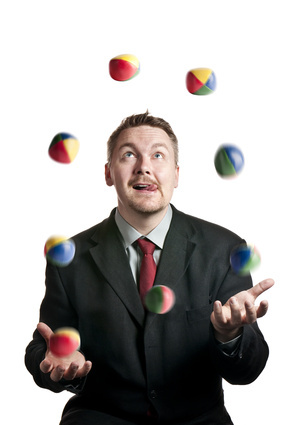 Taking part-time jobs has many advantages like better financial security, finding newness in jobs, learning an altogether different set of skills. However, the reality may not be so sweet all the time. Many people cannot find it easier to juggle such kind of jobs. Striking a balance between professional and personal commitments may come as the primary hurdle.
If you desire to wear multiple hats, you might be thinking about the risks. Don't worry. Don't let unnecessary issues ruin your dream of being a multi-tasker. Here are some guidelines that will surely help you in achieving your aim:
1. Choice of jobs: It is better to choose jobs based on your skill sets. Make a strategy while going for a second job. For example, if you want to remain in one field and gather a vast experience, you must not keep changing your job. There might be slight variations, here and there, but the broader field of your job should be the same. Let's take another example. You may be doing your higher studies and you get opportunity to teach in your previous college. In this case, you need not labour much for your job; but at the same time you might earn decent enough to meet your basic expenses.
On the other hand, if you like meeting new people and exploring new set of skills, you must choose jobs in fields that are completely different from your present job.
2. Work schedule: Creating a schedule is of utmost importance. It will make you more disciplined and productive. Break your day's work in segments and create separate schedules for separate jobs. Maintaining timesheets will help you avoid confusion, overlapping and double-booking.
A weekly report will make things more clear and organized especially if you are doing a contractual job. Set reminders for important meetings. Download various applications on your smartphone according to your requirements and use them for maximum productivity.
3. Flexibility: Flexibility may be an important issue for some people like students. The concept of students going for part-time jobs is not a new thing. Often they find themselves in difficult situations while handling their studies along with jobs. Many students work in restaurants or pubs so that they can get enough time for completing their courses. Freelancing is also common among students. It's better to choose such profession that will offer you flexible timing.
4. Job location: This is also a crucial matter. If your jobs need you travel from one location to another frequently, you may not give your best to any of them. Staying local is a nice option. Again for the second job, you might prefer companies that provide you with working from home option. You will feel less hectic and manage your time well.
5. Finances: Most of us view jobs as the way to monetary gains. Yes, some do it as a pastime also. Whatever may be the reason, getting your finances in order is necessary. There may be some errors on your part in the initial period. Don't work for companies that are late payers. Get a contract or an agreement done in clear words. Send a mail to your manager or the concerned person if you are not paid within the said time. mentioned in your contract. Also be careful about pay slips and tax reporting.
6. Contractual terms: While opting for the second job, make sure that this falls within the terms and conditions of your present job. Don't hide information and discuss with your present boss if you have confusion. Again by letting clients and bosses know about your multiple roles, you will find yourself in comfortable position.
7. Boundaries: It is always better to know your limits. Sheer greed of money may land you in troubles. You might not prove proficient in your jobs. Be clear about your expenses and savings and choose jobs accordingly. Overstretching yourself will invite frustration, physical and mental stress.
8. Goals: Have your goals clear and realistic. What you want from your jobs will enhance your skills and help your avoid frustration. Working for multiple jobs is really challenging. So don't compete with your peers who are doing only one job. Focus on your objectives rather than imitating others.
9. Health: Whatever may be your task, how many hats you want to wear and how many zeroes you may want to add to your salary- all these will be meaningless if you are not healthy. Stay fit by exercising and taking proper diet. Breaks are also important as they make you feel relaxed and produce greater quality work.
10. Family time: Spend quality time with your parents, spouse and kids. You must not feel you are unable to make your family happy even when you have enough for them to spend. If you are single, you must spend for your refreshment.
Thus juggling part-time jobs can become easier. Positive attitude, good time-management skills, clear focus along with a healthy lifestyle will surely make you a multi-tasker. You can create good source of income and dream of a better future. So go ahead!