Why is it important to be on LinkedIn? Is this a platform to land new jobs, or can it help enhance skills? Is being on LinkedIn very essential for your first job? Can we not land jobs without LinkedIn profiles? A list of questions from people who still remain unaware and ignorant about LinkedIn and its need.
While rest of the world is trying hard to optimize their profiles or build professional networks on this platform; there are many who still don't have a LinkedIn profile! Unbelievably Strange it is! Perhaps, they do not know the number of opportunities they are missing everyday and therefore abstain from landing this platform.
However, it is never too late to learn new things that fight age old concepts. All those who are not on LinkedIn and still have landed this post (not accidentally of course), have definitely taken the first step in unleashing the truth. Read this article and if you find it convincing enough, do create a LinkedIn profile today itself.
Working or Not – You do need to have a LinkedIn profile:
Here are some reasons that amplify the use of LinkedIn. However, similar to any other platform, you need know how to use it, to make the most of any platform or opportunity. Therefore, once you know the number of ways LinkedIn can help you boost your career graph; make sure of implementing the same as well.
Why do I need LinkedIn? I already have a job.
One misconception about LinkedIn, that most people; precisely working professionals carry is that, they consider LinkedIn as a job searching tool. And finally when they land desired job roles, they simply remain inactive on this platform. Many even feel that LinkedIn made no contribution in easing their job search process and hence, there's no point continuing.
However, this is wrong. LinkedIn can be viewed as a networking tool where users can remain connected to their professional acquaintances. And if we are to talk about job search, networks and their connections can help you know about job openings or skills required for different job roles.
You may even come across people who are in need of professionals similar to you. Sometimes you may meet people who have similar career goals. Communicating with them can turn beneficial for you as many great ideas develop from simple and casual discussions.
I hope you now know why you need to be on LinkedIn, even when you have a job.
Wherever you are, you do have all recent updates:
Either you are on a year ending vacation tour, or overworked by superiors who leave no space to breathe; you spend five minutes on LinkedIn and there you are well informed about all changes or improvements taking place within your industry.
Be it business strategy or anything else, LinkedIn has some really interesting features to keep users glued to this site. And this is definitely very helpful for you and me or anybody else. Here I am talking about LinkedIn News feed features.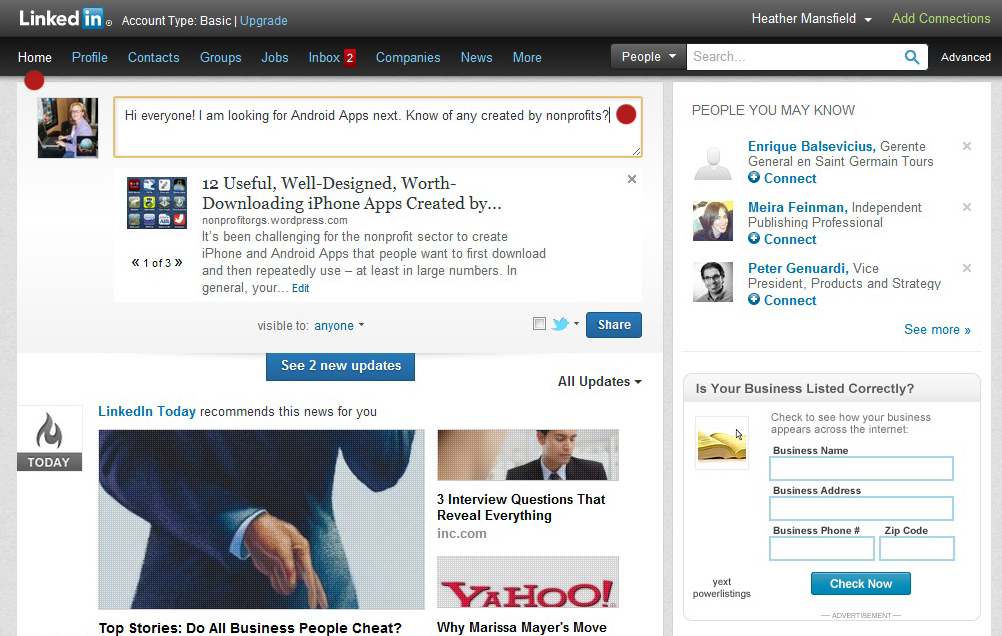 LinkedIn News feed is similar to feeds in any other social media site. However, as this site is a professional social media related, you get latest information or content about your industry. You can customize your feeds and depending on the type of content you share or read, the people in your network and your overall activity bring you feeds, very relevant to your job role and industry. Thus, you don't need to keep hopping around from one site to another gathering facts regarding industries. They just come to you effortlessly.
And you definitely know how important it is to remain updated with latest advents within industry. You lag behind here and so does your professional growth if you are not updated.
Thus I guess you do find reasons of joining LinkedIn now. Still No?! Okay lets go ahead with further advantages. Perhaps, this may convince you.
You are absent – you miss the job:
It is simply not an exaggeration when I say that profiles missing on LinkedIn may get dumped by recruiters. Although, organizations do not make it mandatory for candidates to be on such professional networking sites; it is extremely crucial.
Just speaking to few recruiting staff, who happen to be my LinkedIn colleagues, helped me know the fact that they do look for candidates on LinkedIn during hiring process. When asked why, all of them came up with different answers.
One of them shared that she uses candidate LinkedIn profiles to know if their resumes are stating facts. Many candidates are in a habit of overstating in their resumes; however, they cannot do the same on LinkedIn.
There were others who shared that sometimes when they need to make quick hiring, looking for candidates with relevant skill sets on LinkedIn is very beneficial. They find suitable profiles and contact professionals directly. Thus, saving their time, that could get wasted on age old hiring processes. And talking about your perks, you may receive calls from potential employers, even when you are not actively looking for job opportunities.
LinkedIn profiles are easier than resume writing:
Well, it literally takes nothing to maintain a LinkedIn profile; as compared to writing resumes that takes a lot of research, theories, opinions and what not. However, that does not mean that we stop writing our profile documents completely.
On the contrary, you can refer to your LinkedIn profile to quickly prepare a career summary easily. This includes the time duration spent with each of your previous employers, stating different job responsibilities briefly. And sometimes, when you are not very sure about mentioning some professional information on resumes, you can easily skip those, as you already know that your hiring managers are definitely going to visit your LinkedIn profile.
Well, this was all about why you definitely need to be on LinkedIn, if you need to boost your career graph. However, these are few advantages of having a LinkedIn profile and regular members will definitely be in a position to add million other benefits to this list.
Now, if you really found this convincing enough, don't forget to create a LinkedIn profile. You will definitely feel the positive change it can create on your professional life.