The United States of America is the most developed nation in the world. A developed nation creates good employment opportunities for its citizens. Many studies reveal that 2014 has been the nation's best year of job growth since 1999. And the trend seems to continue in 2015. There has been an addition of 321,000 jobs in last November. Economists expect that the stronger and improving US economy along with employer confidence will finally boost up the slow wage growth.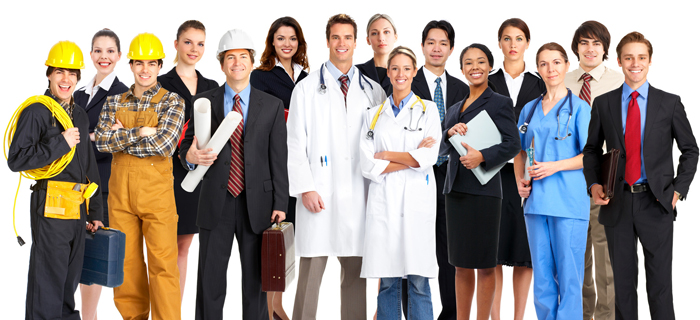 Although there is no dearth of good jobs, yet some jobs sectors are really booming in the current year. Healthcare, retail, technology etc. are offering high-paying jobs. Not only this, many new sectors and new job titles are also created to cater to the different needs and skill sets of the employees.
We list here some of the best and booming jobs in the US. These jobs come with good pay and security.
1. Advanced Practice Registered Nurses (APRN): APRN or nurse practitioners can perform on their own without the assistance of doctors while taking case histories, performing physical examinations, analyzing lab reports, educating patients and families regarding treatment and post-hospitalization care. According to the research reports of The Bureau of Labor Statistics (BLS), this sector will grow by 33.7 percent by the year 2022. A good APRN can earn a lucrative salary of $92,670.
2. Physician: A physician's job needs no introduction. As per the BLS forecast, more than 120,000 jobs will be added by the year 2022. Endless advancements in the medical field, excellent salary and increasing number of people taking health care services are the main driving forces behind this demand. Although the salary varies, the average median salary of a physician is approximately $186,850.
3. Dentist: This job provides you a good work-life balance and high pay. A median salary of $146,340 with utmost financial security is making this job sector flourish. As per BLS reports, 23,300 new jobs will be added through the year 2022. The demand of cosmetic treatments and complete oral care is also increasing. You can work both in private offices and alongside other health practitioners also.
4. Dental hygienists: The popularity of this job can be understood from its projected increase rate in coming times. With an increase rate of 30.1% in 2016 and 33.3% in 2022, this field is inviting more candidates. You may think when we have dentist, what is the real need to go to dental hygienists? For preventive health care, dental hygienists are required. As oral care is an integral part of total health care, more and more dental hygienists have been hired and the process will continue. With a degree from dental hygiene school and state license to practice, you can earn in between $47,880 and $96,690.
5. Software Developer: Software developers have given a new meaning to our life. From designing different apps and devices to fixing bugs, they wear multiple hats. With the growth of computer applications and more businesses becoming technology driven, this job is booming in the current year. If you are living in Florida, Iowa, California, Panama City or San Jose, you may be well-paid with a highest salary of $143,540. By the year 2022, 139,900 jobs will be added.
6. Gaming and sports book writers: Although this is a slightly quirky job role, but the Labor Department predicts that the demand for this role is increasing. The projected increase in the year 2016 is 28%. With a high school diploma or equivalent degree, anyone can go for this job. He must have good presentation and superb customer service skills. Today more and more states in the USA are legalizing gambling and as such demand for gaming and sports book writers and runners are also high.
7. Information security analyst: According to the prediction of the Labor Department, there will be 36.5% increase in the employment growth by 2022. One can earn a handsome salary of $88,590 that can extend up to $138,780 as happened in 2013. Today when there are ample cases of cyber attacks and data breaches, more and more companies are hiring information security analyst to keep top-secret information confidential.
8. Accountant: If you are someone who is interested in audits, taxes and can provide advices to various corporations and non-profit organizations, an accountant job is the best for you. You can earn a salary between $40,470 and $113,740. A bachelor's degree in accounting coupled with effective communication skill is required.
9. Mechanical engineer: This profession has low unemployment rate of just 2.7%. With creative devices like 3D printing and many engineering materials, mechanical engineering task has taken new meaning. Areas like Alaska, San Jose, Massachusetts, Anchorage and California are the top-paying with a maximum salary of $123,340.
10. Personal financial advisor: In the year 2016, the projected increase for this job sector is 41 percent. With a bachelor's degree, one can easily opt for this job and later undergo training courses to adjust with the changing trends of the industry. As a good number of baby boomers are either on the verge of retirement or retiring, the demand for this job is increasing.
11. Marriage and family therapists: As a marriage and family therapist, you can save the marriage of many people and help them overcome frustration. In the USA, the divorce rate is much higher than many other nations. Thus couples go to these therapists with issues like infidelity, depression and related matters. With a master's degree you can earn a median pay of $50,000 in this profession.
These are only some of the top booming jobs in 2015. The above-mentioned list also contains some fastest-growing jobs that are listed in the top 30 jobs projected by the US Bureau of Labor Statistics. You can also contact some job consultancy to find jobs that suit your talents and financial needs.
Jobs in the top fields with slightly unusual or quirky roles like nuclear medicine technologist, digital risk officer, medical equipment repairer, industrial organizational psychologist etc. and other posts like  environmental science and protection technicians, portfolio manager, video games designer, patent agent, portfolio manager, database administrator, IT configuration manager, substance abuse counsellor, radiologic technologist are also becoming popular.