Social media has become a part of our lives. We like to connect with friends, new and old. We like to share our happiness and sorrows not only in the real life but also in the virtual world. Not only this, we use social media for professional networking also. If you are a job-hunter, you must use this new, emerging venue to accelerate your job search. Research studies have shown that more than 90% companies use social media to recruit new employees; and three out of every four manager checks out job-seekers' profiles on various social media platforms like Facebook, LinkedIn, Twitter, Pinterest, Google+ etc.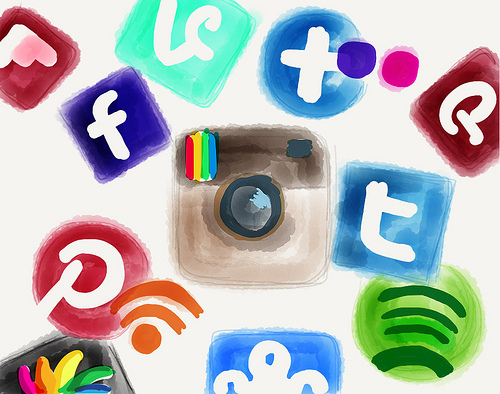 When we say or come across terms like 'social media' or 'social networking', names of Facebook, LinkedIn, Twitter and Google+ flash in our mind. Now-a-days, job seekers use these websites as an important weapon for searching jobs. We present here some basic tips to effectively use these platforms for this purpose:
Since social media is the rage, you must use it to let people know that you are searching for jobs. Moreover, you should mention what type of jobs, what type of companies you are looking for. This will help you know about vacancies before these get listed on companies' websites, newspaper advertisements or online job portals.
You will apply for a job using your real name, right? So why pick some pseudo-name, punchy words for your profiles?  Using your real name will help recruiters to find your profile quickly and easily. This also reflects your professional attitude.
Make every attempt to keep your profile clean. To make an impressive profile, you need to remove all materials like articles, posts that may hurt someone's political sentiments. Search for some tools that can easily delete such things. Select a picture that makes you look competent and influential.
You must link off your account to somewhere so that people can gather information about you and your interests. To make your presence felt, you must include links to your personal websites, blogs, any of your current projects etc.
Make sure you never use your accounts for professional communications. For example, don't follow up a hiring manager after interview sessions on any of the social media platforms.
How to use LinkedIn?
LinkedIn is a business driven social network where large numbers of professionals connect and interact with each other. This professional site is preferred by most employers when looking for new employees. Go through the following to use LinkedIn while job-hunting:
Prepare a complete, impressive profile that increases your chance of getting opportunities by 40%. A complete profile must include details of your big achievements and accomplishments, qualifications, skill sets, certifications, if any.
Get yourself clicked in a nice business suit and use that picture for your LinkedIn profile. Everything you do here must make your employers feel that you might be a thorough professional.
Although checking your profile on LinkedIn may not seem to be as exciting as on Facebook or twitter, it is advisable to keep your profile regularly updated. Set reminders on your phone to check your profile every two or three days and connect with your network regularly in any way.
Join groups as this can help you make connections with new professionals. Pick the best groups, connect with them and share your thoughts to learn about new happenings in the industry.
Don't just keep on connecting with every recruiter. Remember your hiring manager is interacting with lots of interviewees like you. If you try to connect with him before any decision has been made, he might think of you as being over-confident. In case, you are not hired your image will be shattered.
See LinkedIn jobs to learn about open positions.
How to use Facebook and Twitter?
Make sure your Facebook profile is private. But some information like your photo, academic and employment status should be kept public; otherwise employers would not be able to learn basic facts about you.
A host of companies are using Facebook and Twitter for recruitment. You  must Like and Follow companies that interest you, Retweet and Share posts by those companies.
Post new, attention-grabbing yet authentic articles based on your skill sets on your Facebook page.
Create your own blog, put links of your blogs on Facebook page.
Focus your tweets on the subject of your interest or skill sets.
Post a status regarding your job search. Also make your professional status updates public so that if any of the recruiters see your page, even accidentally, he may spend some valuable time learning about you.
Retweet articles by others that you really loved or liked.
Be a real person on Twitter and Facebook. You must like, tweet or retweet articles about your interests, funny observations, inspirational stories etc. While going through your profile, a hiring manager will get the feel that you are a practical and fun-loving person.
Use your Twitter account to follow some job search experts.
Various companies have Twitter accounts specifically meant for their recruitment initiatives. So follow those companies to get the latest job opening updates.
Have you ever thought of the functionality of hashtags? Many times employers tweet out job applications with accompanying hastags and you need to type words like "#jobs" to get the best results.
Rebuild your professional network by actively participating in twitter chats.
Besides these tips, while preparing your well-crafted resume, you must include URL for your Twitter handle and LinkedIn profile to your contact information.
Tapping into the power of social media enables you to: make connections with alumni at your preferred companies, review profiles of your employers or interviewers and their professional association; know more about your target companies and their culture, recruiting process, events; get industry related information like present competitors; learn about job vacancies, career paths for different functions. Moreover, employers, to a great extent, can get a clear idea of you, your personality, academic background, work experience, knowledge of industry, hobbies and how your skill sets might fit into the position that they you are looking for. All these information will help you during your job hunt and interview processes.