Fire Resume
The job as a firefighter is one that is accompanied with many risks and challenges. However, people are still willing to undergo the challenges due to intent of serving people. Quite naturally, the physical appearance of the aspirant is important for selection as a fire fighter; however, this does not lessen the importance of a well-crafted resume. This is extremely necessary to make a good impression on the employer.
A resume with sloppy organization and grammar errors is sure to be neglected due to negative impression. You need to put extra effort while drafting a profile document. Keep in mind that the profession of a fire fighter is different from other fields. The educational qualifications are not so important as is the experience and certifications. Hence, it is advisable to list your educational background, post the experience. Your contact details are also necessary to be mentioned in the profile.
If you still are apprehensive about writing your profile document, check the samples and resume format mentioned below.
Contact Information :
Full name
Campus and permanent addresses
Telephone numbers
Email address
Experience : List the most recent first.
Activities : Campus and community activities; Memberships in professional organizations.
Personal : Certifications, security clearances, patents, special awards, citizenship etc.
Education : List your highest degree first.
Name of institution, city and state

Degree, major and year awarded

GPA (optional)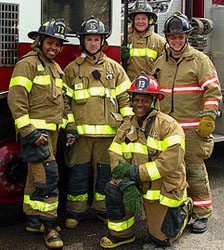 Try to incorporate the following verbs while writing your resume.
Now lets have a look at the necessary information that will make your resume stand out. The following are some of the points you have to consider while making a Fire fighter resume.
Your overall planning and budgetary responsibilities.
A list of the major incidents that you have handled.
Checks and maintenance of equipment and appliances.
Contact with other departments and external agencies.
New procedures and practices that you have introduced or developed.
Any contribution to reduction of cost, improvement in efficiency, or increase in revenue.
Any other achievements that have benefited your employers.
Resume Samples of Fire Department