Computer Resume
Crafting a resume for a job in the field of computers is a tedious task. This is due to the fact that this domain necessitates technical acumen and skill sets that are of prime importance, unlike in other work avenues. This makes it imperative that the profile document of a person aspiring to work in this field needs to speak about technical skills, rather than concentrating on making the document creative.
The resume for this specific category needs to incorporate a breakdown of different computer language skills, along with thier sub-categories. This will enable the recruiters to pick specific abilities you possess in relation to the job in concern. Displaying your proficiency in the required computer elements needed for the job will make you stand out in the competition.
Computer professionals work in almost every setting in corporate sectors such as, assistance and troubleshooting, to software development and networking. Your resume needs to depict the management ability you possess with regards to the said job in these specific elements.
Along with all the key elements mentioned above, the usual information related to your education and past experience is also necessary. We have provided below a format for reference, which you can customize according to your requirement. This is followed by sample resumes related to the various roles in the field of computers. Hope this proves beneficial for you.
Resume Format
Personal Details:
Name
Address
Phone number
Cell phone number
E-mail Id
Summary:
List the summary of your work experience under this category. For example:
Have more than 10 years of experience in programming and application development.
Computer Skills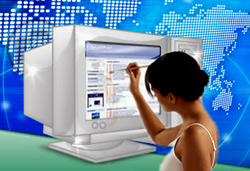 Proficient in C and C++
Familiar with Microsoft Visual Basic and Java
Office Supported Skills
If you have other kind of knowledge that is useful for other types of office activities then mention it under this section. For example:
Have experience on following office activities:
Accountancy
Multi line telephone controlling
Documentation and filing
Knowledge for handling quality photocopy machines and the fax machines
Experience:
Write about your work experience here including your job post, company details and your work details.
Programmer Analyst, 2003-Present
ABC Solutions
Design and maintenance of server code.
Updates on existing software for online financial transactions.
Designed new accounting system with Visual Basic.
Computer Operator,
1999-2002
XYZ Academy
Worked as an assistant to the office manager in-charge.
Played a vital role in the systems operation.
Information System Specialist,
1996-1998
ABS Systems
Prepared documentation for a new customer account.
Developed new Internet security technology.
Maintenance of server hardware.
Also focus on your most impressive technical projects or accomplishments.
Education:
Obtained a Bachelor of Arts degree from the Oxford University in the year 1995
Obtained a certificate course on Project Analyst from XYZ institute
Samples of Computer Resumes