Help Desk Resume
Your resume needs to reflect all your duties and accomplishments. Describe your job duties with a list of your achievements. Here are a few tips for building a help desk attendant's resume. Check out few impressive statements for a secretary/administrative assistant:
Consider the following areas for designing your resume:
Contribution in training or orienting other staff on office policies and procedures
Any rewards like 'Employee of the month"and"100% attendance
Contribution made to the improvement in office operations and/or customer service
Took the help of technology to improve support functions
Created effective power point presentations and seminars
Maintaining any customer database to improve tracking, reporting and customer service
Ability of multitasking in a fast-paced environment, while maintaining an emphasis on quality
Consistent presentation of a professional image, both on the phone and in person
Contribution on any special projects
Positive feedback from the clients regarding service provided.
Help Desk Resume Template
Contact Information :
Full name
Campus and permanent addresses
Telephone numbers
Email address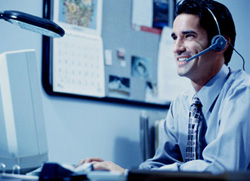 Objective :
Your help desk resume must start with a short and specific statement that includes position, industry and/or relevant skills. For example: 'To obtain a help desk internship with Tech Corporation in order to utilize my abilities and skills'.
Summary :
Present your value proposition in your help desk resume - a narrative statement of the main reasons why you should be called for an interview. For example: 'Help desk technician with three years of experience in diagnosing and resolving technical problems in a multi-user environment. Advanced knowledge of Windows NT, Windows 2000 Professional, Microsoft Office, Microsoft Outlook Exchange e-mail client and Internet access. Certified Microcomputer Applications Specialist'.
Education : List your highest degree first.
Name of institution, city and state

Degree, major and year awarded

GPA (optional)
Skills :
List your skill sets in your resume as a Help Desk / Desktop Support Specialist using the appropriate keywords. For example: Troubleshoot, research, diagnose, document and resolve technical issues surrounding Windows NT, Windows 2000 Professional, MS Office, e-mail, Internet connections and hardware/peripherals.
Experience : List the most recent experience first. Emphasize on your achievements and contributions : Set up workstations and laptops for new employees; configured systems, ensured network connectivity and installed and tested hardware and software.
Activities : Campus and community activities; Memberships in professional organizations.
Personal : Certifications, security clearances, patents, special awards, citizenship etc.
The keywords used in your resume are important. For Resume title : office assistant, secretary, office clerk, data entry clerk, administrative assistant, office manager, executive assistant, executive secretary, customer service representative, front desk receptionist, switchboard operator, mail room clerk, service manager, processing clerk.
For the body of the Resume : Microsoft Word, Microsoft Excel, Microsoft Power-Point, Microsoft Access, Windows NT/98/95, word processing, spreadsheets, database management, multi-line phones, switchboards, scheduling, presentations, office support, customer support, shipping, distribution, accounts payable, accounts receivable, benefits administration, office management, inventory control, purchasing, project management, facilities maintenance, vendor/contractor relations, document preparation.
Sample Help Desk Resume
Checkout our sample Help Desk resumes below :
For more help on resume writing we suggest that you have a look at our
resume help
section.